Dr. James W. Sullivan and Louvisa C. Sullivan of Old Moro
by ©William Ramer Smith, PhD
Many years ago, a legend emerged about a certain Dr. James W. Sullivan and an extinct Arkansas village remembered today as Old Moro. The legend said that Sullivan founded that village, naming it after a beautiful place called Moro Bay recalled from his boyhood in England. It said that Sullivan gained wide fame as a physician and philanthropist, giving away land to attract new settlers to his town. It claimed that he was a Confederate colonel who used his own funds to outfit whole companies of Rebel soldiers, while at the same time he befriended a Union commander, thus saving his town from being raided and pillaged by Union troops. That tale was repeated at local gatherings and appeared in print at least twice, but the stories simply were not true! This paper reveals the truth about Dr. James W. Sullivan and his vanished town.1
Who was Dr. James W. Sullivan?
He was not an Englishman. Both he and his parents were born in America, and there is no evidence they ever set foot in England. In 1873, while testifying under oath before the Southern Claims Commission, Dr. Sullivan's widow Louvisa and several neighbors who had known him gave sworn testimony about the man, and their descriptions were not at all like those in the legend. Louvisa began her testimony with the following statement:
My name is Louvisa Constanza Sullivan, my age is 45 years, my residence is Hampton Township, Monroe County, and my occupation is farming…. My husband was raised in Evansville, Indiana. He came down south in 1845 to Helena.2
Louvisa's maiden name was Louvisa Constanza Randolph, and she likely was the daughter of John C. Randolph and his wife Dicey Ragsdale, who married in Tennessee in 1819. Louvisa was born in Tennessee around 1828, but the family later moved to Holly Springs, Mississippi, where Dicey's grave is found. In February 1848 in Holly Springs, Louvisa married James Sullivan, and the couple settled in or around Helena, Arkansas where James had lived for a few years, but the census and testimony in Louvisa's case confirm that James was a native of Indiana or, as some of her witnesses described him, "a northerner." He may have been wrongly depicted as an Englishman in tales about him because many in England did back the Confederacy, and perhaps this made the story more palatable to southerners who heard it.3
Civil records suggest that James was the son of a prosperous Evansville brickmaker named Abel Sullivan and his wife Jane, both born in North Carolina. Abel and Jane had married in Indiana in 1814, and afterwards they settled in a section of Evansville where tradesmen and laborers lived and worked. During the 1840 census, there were three male children in their household, two of them ranging in age from 15 to 19, and the oldest between 20 and 29 (children's names and exact ages were not listed in that census). In 1850, two of their sons still lived with them, Florance J., age 32, and Archibald, often called Archy, age 26.4
The 1850 census also shows that their brother James, 28, and his wife Louvisa, 22, lived on a 140-acre farm about 12 miles northwest of Helena in Richland Township of what then was Phillips County, Arkansas. That year James produced twelve bales of cotton with the help of at least two of eight slaves he owned (four were infants or small children). His land was valued at $1,000 when the average farm in the township was worth $3,000 and larger plantations there were valued well into five figures, so he was no more than a small farmer, but he had ambitions other than farming. In November of that year, he was appointed postmaster of a place in Phillips County called Oakdale, but that post office closed at the end of January.5
Living near the Sullivan farm in 1850 was A.H. Hopkins and his sister Ruth. This is worth mentioning because about 1852 James's brother Florance Sullivan moved from Evansville to Phillips County to try his hand at farming, and in February 1854 he married Ruth Hopkins, after which they settled on a farm very close to that of James and Louvisa. In May of 1855, James was hired to set up a post office in an unnamed village in Hampton Township of adjacent Monroe County, so in June he filed a squatter's claim on 160 acres of land in Hampton Township, and he, Louvisa, and their two children moved there to live, taking two of the slaves with them. It appears that Florance may have acquired the other six slaves James had owned.6
Shortly after 1860, Ruth Hopkins Sullivan died, and Florance gave up farming and returned to Evansville to work as a laborer and drayman (Archy had taken over their father's brickmaking business). Florance re-married in 1868, and in 1872 he named one of his sons "James W. Sullivan" after his late brother, who had died at Old Moro seven years earlier. In 1920, this nephew and namesake of the late Dr. Sullivan applied for a passport, and in filling out the application he wrote that his father F.J. Sullivan had been born at Helena. He was mistaken about that, but he did know that as a young man Florance had lived at Helena. This provides additional evidence that Dr. James W. Sullivan was the brother of Florance and son of Abel Sullivan.7
Was James W. Sullivan the "founder" of the town of Moro?
No, he was not, and the proof is in several parts: First, Louvisa testified that her husband died in the fall of 1865, at which time he would have been about 44 years old. During his life he worked as a farmer, postmaster, and practicing physician, the latter even though he never attended a day of medical school (explained later). At the time of his death, he and Louvisa had been married about seventeen years, and the testimony in her case indicates that by this time in their marriage he was too ill to work and left Arkansas seeking medical care in Memphis, Louisville, and Evansville, so he never had the opportunity to accumulate enough wealth or property to give rise to a town or to give away land to new residents.
Second, land records show that most or all the original settlers in that part of Arkansas acquired land under laws specifically set up to attract new residents. Some of these laws had been enacted as early as the 1820s, but the law under which James Sullivan obtained land was the 1850 Swamp Land Act. This law made 7.6 million acres of Arkansas land available to anyone who staked a claim, and the Act's definition of "swamp land" was so vague that most of the claimable land was not even swampy! Land claims under the Act were referred to as "squatter's claims," a colorful term that grew from the fact that it was public land offered at little or no cost to anyone who "squatted" there, the only condition being that the squatter had to put the land into productive use and live on it for five years. If he was successful, the land was his for pennies per acre, payable at the end of the five years, if at all. Thus, it makes no sense that Sullivan would lay claim to and then give away land that was free for the taking to begin with.8
Third, in 1850 before James and Louvisa moved to Hampton Township, the population there already totaled 399 (325 whites, 74 blacks), which amounts to 82 percent of the most recent population estimate (253 whites, 204 blacks) in the year 2016. If these numbers are any indication, it appears that the community that later took the name Moro came into existence during the 1840s or even earlier, and no one, much less James Sullivan, "founded" it. The history of that area suggests that the original village sprouted as a drayman's rest stop at the intersection of wagon traces carved through forest and swamp in the 1830s.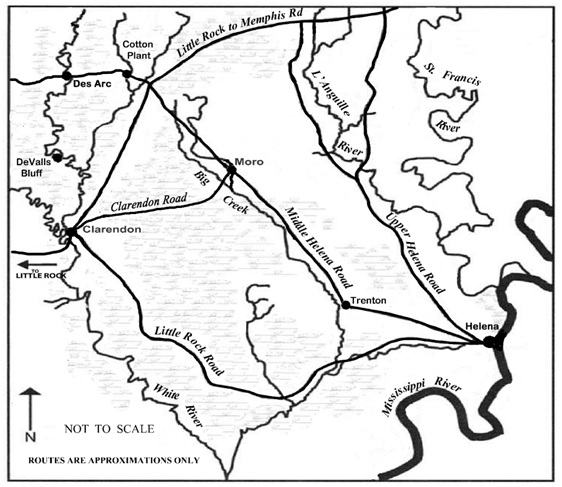 These traces were laid out to connect the Mississippi River crossing at Helena with White River crossings at Clarendon and Des Arc (Figure 1). Along with another road out of Memphis, these were the only avenues through eastern Arkansas for travelers going to Little Rock and beyond. In other words, the old village began in much the same manner as when gas stations, restaurants, and other businesses sprout at junctions along today's interstate highways. No one really sets out to create a town, but people are drawn there because intersections are prime locations for doing business—an adage that was as true in ancient times as it is today.
Each of the roads shown in the map above passed through swampy areas that slowed down wagons and teams more in wet weather than in dry, but on the average the old village was a day's travel from each river crossing, which made it a good place for draymen to feed and rest their animals, obtain repairs, and get food and sleep without fear of being killed by highwaymen. This theory is supported by the 1850 population census of Hampton Township in that several tradesmen and a county official were listed as living and working there that year, to include three wagonmakers, one blacksmith, six carpenters, and a clerk-of-court, the latter of whom had been elected to the county-wide office earlier in the year. However, unlike all other working males in the township, the blacksmith and one wagonmaker do not appear in the 1850 agricultural census, implying that they raised no crops and sustained their families on income from working full-time at their trades. According to classic economic principles, when any members of what began as a community of self-sufficient farmers earn enough money by providing services (other than doctoring, teaching, or preaching) to buy food and necessities from those around them, a town or trade center is forming, and the census shows that this already was taking place in Hampton Township more than five years before the Sullivans moved there.9
Fourth, in the tale it says that Virgil C. Bigham settled at Old Moro because Dr. Sullivan enticed him to move there from Mississippi by giving him "two acres of land, a mule, and a house," but not a word of this is true. In 1850, Virgil already lived in Hampton Township. He was 13 or 14 years old, his birthplace Tennessee, and he lived with his parents Martin and Sarah Bigham on 200 acres of mostly-wooded land claimed prior to 1850. Martin farmed on 17 of those acres, but he may have operated a sawmill there as well, because the tale portrays his son Virgil as "a sawmill man." Martin's and Sarah's youngest child Robert had been born in Arkansas in 1847, and the next oldest, Elizabeth, in Tennessee about 1840, and while they did live in De Soto Co., Mississippi for a brief period from 1840 through 1845, they had settled in Arkansas by 1847, eight or nine years before the Sullivans moved to Hampton Township.10
Given the foregoing, the only bit of truth in this part of the legend about James Sullivan may be that he named the village "Moro" when he became postmaster there in May of 1855, but the name did not originate in England as claimed. A digital search of nineteenth-century British gazetteers, maps, and travel books turns up only one place with a similar name in the British Isles, a village in Ireland called Murroe or Moroe. However, that village was founded and named in the 1830s when James was a teenager in Indiana, so it could not have been a place connected with his ancestry, and there is no likelihood he ever traveled there. In fact, the only time on record that James left the United States was in 1846 and 1847 when he spent the better part of a year in Mexico, and this provides a clue as to how he may have come across the name "Moro."11
The common word "moro" comes from a Latin term for a dark-purplish color, but other than the dark soil and mulberry trees that once proliferated in Hampton Township, there is nothing to suggest this as a source of the town's name. Taking it further, the surname "Moro" is found on land grants from the Spanish colonial period in America. It once was, and in some cases still is, a place name in at least thirteen U.S. states. The name already had appeared in what is now Bradley and Calhoun Counties in Arkansas during the Louisiana Purchase expeditions. As explorers led by William Dunbar and George Hunter paddled up the Ouachita River in 1804, Dunbar wrote in his journal that they passed "Bayu Moreau" (Moro Bay) on their right, and James Sullivan may have passed through that area 42 years later while on his way to Mexico. Moreover, the surname "Moro" is common south of the border, and almost certainly he would have encountered it in Mexico. Another possibility has to do with his wife's name: "Louvisa Constanza Randolph." Her middle name derives from a Spanish word meaning "constant" or "steadfast," suggesting that she may have had ancestors whose surname was Moro.12
In fact, no one can say with certainty where the name originated, but acting in his capacity as the village's first postmaster, James Sullivan was required to submit a name to the Post Office Department to obtain a postal license, and prior to 1891 the agency had no policies about names, so a new postmaster was free to choose any name he liked. It could be his own name, the name of his business, the name of a nearby river crossing or landmark, or anything else that would make the office easier to find in an era when there were few road signs, but it did not have to be the name of a village or town. This so differs from the complex and wide-ranging post office policies of today that it probably led to the mistaken belief that Sullivan was "founder" of the village of Moro, when all he did was give the town its name.13
Was James W. Sullivan a Confederate colonel?
No, he never served in the Confederacy. First, his wife Louvisa swore that "none of my relatives, my husband, sons, brothers, or nephews served in the Confederate Army." Second, Claims Commission officials were required to search through captured Confederate records for evidence of Rebel military service, and neither the Commission nor sworn witnesses who knew James Sullivan took issue with this part of Louvisa's testimony. Third, and far more persuasive than the previous two, nothing is found in Civil War military records in the National Archives showing that James served in any capacity, in any branch of the military, whether Confederate or Union, during the Civil War.
What is found in the National Archives is that James W. Sullivan served in the American Army fifteen years before the Civil War. Oddly enough, this is how he became a physician. In May of 1846, Congress authorized President Polk to raise 50,000 volunteers to serve in the Mexican War. That July at Helena, James enlisted as a corporal in Phillips County's Co. "K" of Archibald Yell's Mounted Arkansas Infantry, U.S. Army, and he provided his own horse. The regiment trained in Hempstead County in southern Arkansas through the end of August. In September, after Yell's troops crossed the Red River at Shreveport and rode to San Antonio, hundreds of men came down with measles, yellow fever, dysentery, and other diseases. By October 10 when they crossed the Rio Grande, many were dying or already dead. The number of seriously ill soldiers overwhelmed the existing medical staff, so on November 6 at Monclova, Colonel Yell ordered that James W. Sullivan be placed on detached service as a hospital steward at the reduced rank of private.14
Yell's order, also found in the National Archives, says that James "resigned" his rank as a corporal to become a hospital steward, which could be taken to mean that James volunteered for the job. If so, it was with the understanding that he would be demoted. At the time of the War with Mexico, U.S. Army regulations dictated that all hospital stewards be picked from the ranks of line combat soldiers, so officers selected men who not only exhibited tolerance for bloody field-hospital work but also had personal limitations that might hinder performance in combat. The men chosen were trained entirely on the job. They accompanied qualified surgeons onto the battlefield, dispensing medicine, dressing wounds, and even doing minor surgery, but they were not doctors, and their rank usually was that of private because they were noncombatants.15
As a hospital steward, James served under the command of regimental surgeon Dr. Craven Peyton, a noted Little Rock physician. In February 1847 at the bloody Battle of Buena Vista near Saltillo, Peyton's hospital stewards labored amidst the carnage and panic of that battle, during which Col. Yell and about a dozen others in the Arkansas regiment were killed. James survived, of course, and he mustered out at Monterey in early June, returning to Helena aboard steamboats by way of New Orleans. At that time, medical schooling was not mandatory for a person to become a doctor, so men who had served as hospital stewards in the Mexican War often drew on their field hospital skills to become civilian physicians, and this was what James Sullivan did. The fact that he and others like him had no medical schooling mattered little to folks in rural areas, where medical care was hard to come by, so in 1850 while he was living in Phillips County, James told census-taker Q.K. Underwood that he was a "physician" by trade.16
So, did Dr. Sullivan back the Rebels or the Union in the Civil War?
When Louvisa was asked a similar question while testifying under oath, she said that "my husband was loyal to the United States but was afraid to express his opinions publicly. It was dangerous to express Union sentiments in this country." Peter Jolly, who farmed north of the Clarendon Road, was more plainspoken about this during testimony in his own claims case, saying that "there was several men in here killed for talking too much!"17
Another neighbor who testified in Louvisa's case, Eli Diamond, formerly of Phillips County, said that his friend James Sullivan was so markedly silent about secession and the war that it aroused suspicion among Rebel partisans who viewed his silence as veiled opposition:
I was intimately acquainted with Dr. and Mrs. Sullivan, and we had frequent conversations about the war. Born in Evansville, Indiana, Dr. Sullivan left this portion of the country and went to Indiana during the war. I know that he was suspected by the Rebels and violent secessionists because he was a northern man and because he did not go hand and glove with out-and-out secessionists. He always blamed [Jefferson] Davis, [William] Yancey, [Robert] Rhett, and such men for influencing the states to secede for their own personal ends and for the purpose of establishing a centralized aristocratic government in which all of them could be president.18
It was a hard matter for a Union man to express his opinions and sentiments during those times. A man had to be regardless of life and everything else if he undertook to advocate the Union cause openly, and few men had the moral courage to do this. Men were compelled to do disloyal acts and profess to be friends of the Confederacy when they were true Union men at heart, and I believe such were the actions and sentiments of Mrs. Sullivan and her husband. He rarely expressed any full opinion on these subjects out in the community, from the fact that he was of Northern birth, and such men as him were closely watched.
Testifying in the 1901 Congressional review of Louvisa's case, Herschel Bickerstaff recalled that Dr. Sullivan only spoke of his beliefs to those he trusted. Bickerstaff said that he had visited with Sullivan often and heard him say he was opposed to secession and war, and "if they must fight, they should do so for the Union." Lawyer James M. Hall, who served both as Louvisa's attorney and as a witness on her behalf, added the following about James:
I have heard him express the opinion that it was only for a time the Confederacy would last—that the Union would be successful in the end. He was from the North to this country and his feelings were evidently in favor of the Union. A practicing physician here during a part of the war, he took no active part on either side, left the South, and returned to his native home in Indiana, where he remained until the close of war. I cannot say from any positive knowledge that I have, what views and sentiments Dr. Sullivan had upon the subject of the War of the Rebellion, but I never knew him to give any aid to the Southern cause or the Union cause.
While it is true that James Sullivan did not fit the profile of a secessionist, and although Hall, Diamond, Bickerstaff, Mrs. Sullivan, and others portrayed him as a Union man, some men at Moro said the exact opposite. Two such men were Virgil C. Bigham, mentioned earlier, and his friend Wesley T. Breeding, both of whom had served as sergeants in the Union Army. In 1873, Bigham and Breeding willingly appeared as witnesses in several other local claims cases, including those of Nancy Weatherford and John Curtis, the latter of whom said that the two men were so opposed to secession and war that the local vigilance committee made a failed attempt to lynch them for their "Union proclivities." After that, they both decided to join the Union Army. However, the unusual thing about Breeding and Bigham is that they flatly refused to testify in Louvisa's case even though they had been willing to testify in other such cases there. Claims Commissioner John Edwards saw this as relevant to her case and went out in town to find them and ask why. What the two men told Edwards supposedly was off the record, but he wrote it down anyway:19
Wesley Breeding, a soldier in the Fourth U.S. Arkansas Cavalry testified to me privately that Dr. Sullivan was in the vigilance committee at the beginning of the war and went about making speeches in favor of the Confederacy. V.C. Bigham, another "true man," also gave testimony to the same thing, and told me he had been asked by Mrs. Sullivan to give his deposition in her favor but had told her he could not say anything that would do her any good.
As it turns out, Breeding and Bigham may have been right. James Sullivan may have been an early member of the vigilance committee that tried unsuccessfully to lynch them. If so, it is no wonder that they refused to testify on Louvisa's behalf. Moreover, the men who provided sworn testimony for Louvisa may not have seen that side of James Sullivan, and here's why:
It appears that the local vigilance committee evolved out of the Hampton Township Home Guards, which Sullivan, Breeding, and Bigham joined in mid-1861 after the Arkansas secession convention directed each township to organize a militia for home defense. Each company was made up of men of all ages, including older men not eligible for military service. James Sullivan's name heads the list of twenty who organized the Hampton Township militia, and he was the only one among them who had served in the Mexican War, so it appears he was elected as their commander. When war began, however, the company splintered, with seven of the twenty joining the Rebel Army, while two—Breeding and Bigham—joined the Union Army. The remaining eleven could not serve due to age or infirmity, but as Union forces occupied the state, all such men were officially urged to resist, and the local group may have looked to their own Mexican War hero, Dr. James Sullivan, to form a vigilance committee. As to why most of the men who testified in Louvisa's case admitted to little more than having heard of a vigilance committee and said that they knew nothing else about it, maybe they were lying. However, it also is possible that they were telling the truth, because none of them had been members of the Hampton Township Home Guards, and vigilance committees were secretive groups because they operated outside the law and often turned violent. Yet, it may have been due to Sullivan's leadership in one or both groups that he was wrongly described in the legend about him as a "Confederate colonel."20
One witness who did provide some information about the local vigilance committee was Milton J. Cole, who claimed to have been a Union man who, in 1868, had been appointed Justice of the Peace in Hampton Township by Arkansas Governor Powell Clayton, the latter of whom had been a Union Army general who remained in Arkansas after the war. Like others who testified under oath, Cole was attempting to establish that Dr. Sullivan had been a Union man, but he came close to confirming remarks made outside the courtroom by Breeding and Bigham, as seen in this excerpt from his aimless and sometimes comical sworn statement:
I never spoke to the Doctor in regard to the war, its cause, and progress. I could not say if he was a Union man or not at the commencement of the war. I was a Union man myself and was obliged to leave the country and go into the Federal lines. I could not say, only from my belief, what his sympathies were at the beginning of the war. I believe he was with the South. I think he was so from his interest in Negro property. He only had two slaves.
I know that Dr. Sullivan took the oath tolerable early in the war and went north to his father in Evansville, Indiana. His father I knew personally and knew him to be a strong Union man. I can say Dr. Sullivan was a very reasonable and lucid man. Never heard him say much about the war or secession even when everybody was talking in favor of the South. I believe that while he favored the South at the first, the progress of events soon affected a radical change in his views.
I can testify that it was very hot times for a Union man here. With vigilance committees, guerilla bands, and Quantrellites, it was impossible for a Union man to stay in the country and say anything. If a man said anything about his sentiments being in favor of the Union, he had to get out and run into the Union lines. I believe there was many men who were Union at heart, who, to stay in the country and save their families and what little property they could, would profess themselves to be Rebels and outwardly act as such.
I can only give my own experience. I had to leave about the 1st of June 1862 in disguise from where I had lived. I had to run away. At one time the vigilance committee came for me. They had a band of thirty men out that day and had just hung a man at Midway in Phillips County. They came to the grocery where I was, and I heard them saying inside, "Damn him! Hang him!" I told the grocery keeper to give them whiskey all round, so they omitted to hang me that time, and I got off to the Federal lines at Pulaski, Tennessee. I served in the Federal Army as a teamster.
Louvisa's witness Henry Ingram made a more concise sworn statement in support of Dr. Sullivan, and neither the cockiness nor big talk that had tainted Cole's testimony were present in Ingram's statement. Yet, he compromised his own testimony by falling into a trap he set for himself, a blunder that will be explained below. Here is what Ingram said:
I heard the Doctor say he taken the oath to the U.S. when General Curtis's army came through here. I know that he left the country in 1862 or 1863 and went to Evansville, and I believe he remained there 'till the close of the war.
Historians say that countless residents of Arkansas did switch sides after the Union Army invaded the state, and it would not have been unreasonable for Dr. Sullivan to do so, given his background. At least one-third of white Arkansans opposed secession and war, and less-affluent farmers came to believe that they had been hoodwinked by wealthy plantation owners and their political puppets. The Conscription Act passed by the Confederate Congress in April of 1862 exempted from Rebel military service one son of every owner of a large plantation for each twenty slaves he owned, which of course drove up the price of slaves and the wealth of large plantation owners, whereas the sons of small farmers with few or no slaves were pressed into service to fight and die while rich boys stayed home. Many white Arkansans saw this as unfair and shifted their support to the Union. In addition, more than eight thousand white men and five thousand freed black men in the state joined the Union Army—so many that one in every five Arkansans killed in the Civil War died wearing Union blue.21
Even though Cole and Ingram both testified that Dr. Sullivan was among those who switched his support to the Union early in the war, the Commission disregarded the words of both men. Cole was ridiculed because he rambled and talked mostly about his own views and experiences rather than those of James Sullivan. Ingram's more focused testimony was ignored because he filed his own claim in which he swore (as did Louvisa) that he never provided stores, supplies, or other aid to the Rebels, but claims investigators later found receipts showing that he sold several bales of cotton to Confederate authorities. Moreover, as Cole had done, Ingram claimed he had served as a Union teamster, but there is a Rebel service record showing that Ingram enlisted as a private in Dobbins's 1st Arkansas Cavalry, CSA, and in May of 1863 by order of Col. Dobbins, he was placed on detached service as a Rebel teamster. If that record also was found by claims investigators, Ingram fell into a trap of his own making.22
Was it true that Dr. Sullivan befriended a Union colonel, thereby saving himself from being arrested and the community of Moro from being raided and pillaged?
No, it is not true, but that story is a muddled mix of several incidents that did occur in mid-to-late 1862. Louvisa told it this way:
The first army which came to my plantation was the command of General Curtis, who came from Missouri. They came up to my place by the swampy road from Clarendon. It was about the middle of July 1862 when they came. It was cavalry, infantry, artillery and there was a large wagon train.
Louvisa testified that she and James sat on their front porch and watched Union troops trudge down the road past their farm, adding that the column took three days to pass. She was not exaggerating about the three days. On July 12 at 9 a.m., Curtis's advance guard reached Helena. Three hours later his rear guard left Clarendon, so at mid-day on July 12 the column stretched over the entire 57 miles of the Middle Helena and Clarendon Roads!23
As soon as the army came up, some of the officers came in the house and took my husband as a prisoner and carried him to Helena, but they turned him loose after they got him there. They could not find anything against him.
There is a bizarre tale in the printed legend saying that Union soldiers did arrest Sullivan, who supposedly flashed "the secret masonic sign," whereupon the colonel in command countered the sign and ordered his men to free Sullivan. Afterwards, it says, "the two men became very close friends," with Dr. Sullivan inviting the colonel to be his house guest for several days while the contingent of Union soldiers camped around the Sullivan home. In gratitude, the colonel supposedly "ordered that no raiding nor pillaging of any sort be carried out against the community." Although this tale is a corrupted version of actual events, and it does appear that Dr. Sullivan was arrested at some point, what the Union officer is said to have done could be construed as dereliction of duty and fraternization with potentially-hostile civilians, and such actions ran contrary to military codes even in that day. If such a thing had taken place, particularly over a period of several days, it is likely that the officer would have been recalled and disciplined, and this is exactly what happened to two Confederate officers in similar circumstances, as mentioned below.
A second set of problems with this part of the tale is that Helena was not yet secure in July, Curtis was unfamiliar with the area and people in it, his troops were in desperate need of food, water, and medical care, and he had several thousand freed slaves in tow who sought refuge with his army. And, besides the fact that his troops were strung out over 57 miles of bad roads, hundreds who were too sick to proceed had fallen by the roadside. They would have to be picked up by wagon over the following week to ten days. Given these awful conditions, it is unlikely that arrests would have been made during this march, and there is no evidence in Union military records that any arrests were made.
Lastly, both Union records as well as testimony in Louvisa's case and other claims cases in that area make it clear that no one interceded to keep Moro from being "raided and pillaged." In fact, Union troops plundered the village not only when Curtis came through in July but on at least two other occasions in 1862, not to speak of other times in 1863, and Louvisa accurately identified the officer in command of two such raids as "Colonel Vandever." Union records confirm that he was Col. William Vandever, 9th Iowa Infantry, and he ordered and was present during raids at or near Moro in July, September, November, and perhaps at other times. Here is Louvisa's description of the July raid when Vandever was with Curtis:
The soldiers of Curtis's army seemed most starved to death. They broke down the smoke house door, and I heard my husband say they took 3,000 pounds of bacon, middlings, hams, and shoulders. Some eat it in the yard, and some carried it off with them. The advance guard came in the first day and took a few pieces of meat and some corn. The second day the main body of Curtis's army begun to pass by sunrise and were passing all day and night. They were taking meat all that day 'till it was all gone.
The soldiers also took a quantity of wheat from the stacks in the yard. At the same time, they took three or four barrels of molasses and two barrels of sugar. We had 600 bushels of corn in the crib. The yard was full all day pretty much of cavalry feeding their horses. They took five mules from us the second day. One of the five was ridden off by one of our servants, a black man who went off with the Federal army. I saw two others taken with our wagon for the purpose of taking refugee Negroes to Helena. Officers told me the government would pay for it.
Warren Weatherford, Jr. told of the horror he witnessed as a twelve-year-old on his mother Nancy's farm less than a mile away:
The soldiers killed and ate the hogs around the yard. I saw them. I could hear the hogs squeal and the blood was all around the lot, the crib, and the yard, and I saw some of the heads lying around.
William H. Diamond, the son of Eli Diamond who also testified, had been about eleven years old when Curtis came through. His young mind took in everything that happened, and he provided more detail on the incident than Louvisa or anyone else. The following paragraph is composed of a series of brief quotes from his extensive testimony:
Some of the soldiers was eating the bacon raw in the yard. The most of the soldiers tied the bacon to their saddles and rode off with it. I did not see any of them cooking it, all I saw used was used raw. Mostly every fellow had a piece in his hand or on his horse. I saw the soldiers at the same time take a quantity of sugar and molasses. The soldiers took it off in canteens and everything they could carry it in. I saw [them take] horses, corn, meat, wagon, mules, hogs, molasses and sugar. I did not hear [the Sullivans] make any complaint to any officers or soldiers on account of the taking of the property. The horses and men were almost starved when they came through. All of the property was taken in the presence of officers. I did not hear any of them order the soldiers to take it, but they were all a-eating of it. I never saw so many hungry men. They ran starved out, I know that!
Neither the Sullivan nor Weatherford farms are mentioned by name in formal accounts of Curtis's march, but what took place there is confirmed in reports by eyewitnesses and officers who were present. Union medical officer Dr. Charles Brackett wrote that the march was "one of the hardest on record. Some of our officers cried like children for food and drink. Some of the scenes were truly awful, and others ludicrous, embracing all the incidents peculiar to the march of a hungry, maddened army through an enemy country where wells are filled, and provisions buried and burned." Gen. Curtis wrote in his official report that he freed slaves whose masters had used them to block his progress, and a Memphis newspaper confirmed this, saying that an eyewitness reported that "Curtis's army was followed by several thousand Negroes, some of whom ran away from home, while others had leave from their masters to accompany the army, they having no longer the means of feeding their slaves."24
In mid-September, two months after Curtis's march, Col. Vandever reported that he did arrest some alleged informants along the "Spring Creek Road," which refers to a stretch of the Middle Helena Road running to the village of Spring Creek about 9 miles south of Moro. While Moro is not mentioned in that report, Vandever probably went through there as well. However, in early November he did mention going to Moro and arresting suspects there, none of whom he mentioned by name, but as explained below there is reason to believe that Dr. Sullivan was among them. On that scout in November, Col. Vandever was under orders to verify reports that 2,500 Rebel troops had massed near Cotton Plant. Illness ran rampant at the Helena fort, so he put together a detachment of 1,200 reasonably healthy men from seven regiments. Among his officers was Capt. William Walker, 1st Indiana Cavalry, whose name Louvisa remembered because the 1st Indiana had mustered in her husband's hometown of Evansville. Vandever departed Helena on November 5 via the Little Rock Road, which ran along the White River through the swamps south and west of Moro. He thought he knew the road well, but a day or so later he found himself utterly lost in the swamp between Helena and Clarendon. Louvisa told how it all came about:25
The same fall, Col. Vandever and Capt. Walker's command was on a scout from Helena and in search of a Rebel command under Capt. Anderson. It was in November 1862, on a very cold night, that they came from Helena and went to Clarendon by the Little Rock Road, and they returned by the Middle Helena Road past my house, arriving one afternoon half-an-hour by sun [before sunset] and camped at my house that night.
Winter arrived early that year. On November 5, John Truss of the 12th Texas Cavalry, CSA, camped at Des Arc, wrote to his wife Rebecca, "We have cold north wind today and cloudy. Looks like snow." Overcast skies brought early darkness as Vandever camped at Trenton. The next day, his men woke under a blanket of ice, as did Capt. Elijah Petty of Gen. J.G. Walker's Texas Division near Cotton Plant—the same Rebel troops Vandever had been ordered to scout. Petty wrote, "We have lots of frost and ice. It is a great deal colder than in Texas."26
The next day, Vandever met a band of Rebels, some of whom his men captured. The prisoners warned of ambushes ahead, so the next morning he ordered his column to turn off the Little Rock Road "to the right, in the direction of Cotton Plant." Unfortunately, his guides became confused and rode in circles for hours in the swamp between Big Creek and the White River. Vandever wrote, "I spent the whole day in traveling unfrequented roads, and toward night found myself near Big Creek, some six or seven miles from Moro. I directed my march to that place and encamped…, my stock of provisions being now nearly consumed."27
Because Vandever had been with Curtis in July, he was familiar with the Sullivan place, so he ordered his men to camp around the house much as described in the legend. However, with men and horses reeling from hunger, thirst, exhaustion, and exposure, another grisly scene unfolded, and what Louvisa described was anything but the polite dinner among the best of friends told about in the tale:
The scout shot forty head of hogs. After the soldiers shot the hogs they cut off their heads and skinned them and eat them there. I saw the soldiers eating the meat.
Darkness and freezing cold had descended on them, so Vandever's men started fires for light and warmth, but as had been the case in July, they were too ravenous to cook the pork. As bonfires flicker-flashed the frenzied movements of desperate men and screaming, dying pigs, the troops beheaded, eviscerated, and carved up hogs on the spot, devouring chunks of raw pork while the vapor of hot pig blood rose into the frigid, night air.
Vandever did arrest some unnamed residents of Old Moro while he was there, but he reported only that he departed the village carrying prisoners early on November 8 and reached Helena by nightfall. He rode directly from Moro to Helena and made no mention of Cotton Plant, 30 miles from Moro in the opposite direction, or of Confederate troop strength there. Yet, on November 12, a dispatch was telegraphed from Memphis reporting that he found 5,000 Rebels at Cotton Plant, "a force too large for the Federals to attack." Obviously, word had spread that the Rebels were massing forces around Cotton Plant, and it was no coincidence that Dr. Sullivan himself made several trips to that area during this very same period—trips that Louvisa dared not speak of in court.28
Just over a month after Vandever's scout feasted on raw pork at the Sullivan farm, Dr. Sullivan rode to a Rebel camp on the White River at a place called Lake Bluff, described as being north of DeValls Bluff and 12 miles from Des Arc. Sullivan went there to collect money owed him by the Rebel Army, and he was paid by Maj. A.J. Byrd, commissary officer for a Texas cavalry brigade commanded by Col. William H. Parsons, bivouacked at Lake Bluff. With so many soldiers to feed, the Rebel command had offered to buy food from area farmers, and pay vouchers found in the National Archives show that on November 10, two days after Vandever's scout left Moro, James Sullivan sold the Rebel army 18.5 bushels of potatoes and, two days later, 247 pounds of beef. A third pay voucher, number 54, shows that "Dr. J.W. Sullivan" was paid a total of ten dollars "for board for pickets @ $3.50, 18 lb. bacon @ .25/lb., and 8 lb. salt @ .25/lb." The purchases tallied on voucher 54 had been made on October 17, 1862, "by Lt. A.H. McDaniel, while on detached duty commanding pickets!"29
A day-by-day account of how this came about is found in Bailey's book about Parsons's Cavalry Brigade. On September 14, 1862, Col. Parsons ordered the posting of pickets on all roads leading into Helena to prevent supply wagons from reaching the Union fort there. Each detachment of pickets consisted of an officer and six men with orders to "watch any and all movements of the enemy and report the same." The detachment posted along the Middle Helena Road at Moro indeed was led by Lt. Augustus H. McDaniel, Co. "K," 12th Texas Dragoons, and voucher #54 establishes that James and Louvisa provided McDaniel's pickets with meals and maybe even lodging while they were posted there. Without a doubt, this is the source of the tale about Dr. Sullivan inviting an army officer into his home for several days, but in this true and far more believable version of the story, it was a Confederate lieutenant rather than a Union colonel!30
What adds credibility to the discovery is that it was not the only time Rebel troops had taken meals in private homes there, and Lt. McDaniel was one among several officers and men who were punished for it. Within days of Dr. Sullivan's visit to Lake Bluff, pickets posted at Trenton, 20 miles south of Moro, were captured by Union troops "while eating a hot meal in a private home." As a result, both the officer in charge at Trenton, Lt. William M. "Buck" Walton, as well as Lt. McDaniel at Moro, were relieved of duty and ordered to immediately report with their men to Col. Parsons! Hoping to put a stop to the practice of taking meals in the homes of civilians, Parsons ordered that all troops still out on picket duty be notified as to why these officers and men had been recalled.31
What had happened was that, in late October after the Rebel pickets were captured at Trenton, Maj. Byrd told Col. Parsons that Lt. McDaniel and his men had indulged in the same reckless practice at Moro, and this resulted in both officers being recalled. At the same time, Union commanders at Helena, who certainly knew about the Trenton incident, may have ordered the arrest of Dr. Sullivan suspecting that he aided the Rebel pickets posted at Moro. If so, it is likely that Sullivan was among the prisoners taken to Helena in November. Moreover, Dr. Sullivan may have secured his own release by making a case that he was obligated as a physician to help people, so he had fed not only Rebel soldiers but Union soldiers as well, even if unwillingly.
Yet, that does not let the Sullivans off the hook, because they were paid for what they did, and the vouchers prove that Breeding, Bigham, and Cole were right in saying that Dr. Sullivan aided the Rebels early in the war. In addition, Louvisa and her household help would have prepared and served meals to the pickets, so she perjured herself in saying that neither she nor James gave aid to the Rebels or received pay from Confederate authorities. Of course, it is evident that Claims Court investigators never saw the pay vouchers found by this writer in the National Archives. Moreover, Cole's words were ignored by Commissioner Edwards, who wrote harshly that "Cole's testimony amounts to nothing in loyalty!" So, final judgment in the case hinged entirely on comments made outside the courtroom by Breeding and Bigham, and in 1890 when Judge Asa O. Aldis rendered a verdict, he wrote that the Sullivans "were undoubtedly secessionists; Sullivan had the reputation of a Southern man!" Even though that verdict was based entirely on unsworn testimony, it held up through the 1901 Congressional review, which made it final.
In the end, it is worth noting that Bigham and Breeding had been the most visible loyalists in Hampton Township. Despite the threats made against them, both had fought for the Union for the duration of the war. One or both had testified under oath for Peter Jolly, Nancy Weatherford, and John Curtis, whose claims were approved, so Louvisa's petition might have gained approval had the two men taken the stand for her. Still, Claims Court investigators dug through captured Confederate records looking for evidence that claimants lied under oath, and had they seen the pay vouchers found by this writer, the verdict would have been affirmed then and there. Federal law prohibited reimbursement for goods confiscated by Union soldiers from private citizens who also had been willing sources of supply to the Rebels.
Remarks by the writer:
Perhaps it was unintentional, but the legend that once flourished about James W. Sullivan either distorted or overlooked his northern upbringing, his service to the United States in the War with Mexico, his unique path into medicine through his work as a hospital steward, his role as a postmaster in the emerging village where he lived, and his activities during the Civil War as a leader of the local militia. The irony in all this is that the revisionist myth that was intended to preserve the memory of Dr. Sullivan all but erased the real man. Even more odd is the fact that the grave of a man who was the subject of legend was so neglected that it has vanished as completely as the old village of Moro, which with similar irony was blown away by an unseasonable tornado that occurred on the Tuesday before Thanksgiving in 1900.32
Louvisa's grave also has disappeared. She was almost ignored in the printed legend, where it says only that she descended from the Randolph family of Virginia—Thomas Jefferson's line—but no proof of her lineage could be found. Regardless of that, Louvisa fed and cared for her family during her husband's illness and death and throughout the harsh period of Reconstruction that followed the war. After she appeared in Claims Court in 1873, the last documented mention of her is in the 1880 census, three years after Reconstruction is said to have ended. That year, she and her 20-year-old son Arthur were living in Old Moro with her daughter Alice, son-in-law William G. Paslay, and their three children.
William G. Paslay was a former Rebel cavalry lieutenant. Next door to the Paslays lived dry goods merchant and former Union cavalry sergeant Virgil C. Bigham. Arthur Sullivan, son of the late Dr. James W. Sullivan, worked as a clerk in Virgil's store.
---
1 For the printed legend, see William L. Waldrip, "Moro and Community," History of Lee County, Arkansas, eds. Nancy Apple and Suzy Keasler (Dallas: Curtis, 1987), 46-51; Charles B. Dozier, "Dozier, Charles E.," 229-30; "Moro History is Examined…," The Brinkley Argus, March 17, 1976, pp. 1,10A. Herein, the names "Moro" and "Old Moro" sometimes are used interchangeably, but the older village by that name existed only in the second half of the 19th century, whereas the present town was built on a new site a mile away between 1908 and 1914.
2 Louisa C. Sullivan claim no. 7785 (disallowed), Southern Claims Commission, 1871-1880, Records of the U.S. House of Representatives, National Archives [henceforth NA in citations], file copy in possession of the writer, not further cited herein; Louisa C. Sullivan, no. 7785, "Cases Dismissed, Congressional," Cases Decided in the Court of Claims of the United States, Term of 1913-1914 (Washington, DC: Government Printing, 1915), 734. Mrs. Sullivan signed her name "Louvisa" on her petition, and her attorney Gilbert Moyers of Memphis also wrote it this way, but it is spelled "Louisa" in the file headings. Presumed lost a century ago, in 2009 the 65-page handwritten transcript of the Sullivan case was found in a warehouse that pre-dates the National Archives. To date, it has not appeared in digital format. For ease of reading, the writer has edited the hand-written court transcript, supplying punctuation and sentence structure. For consistency and brevity, statements made by witnesses out of context and/or at separate times may have been combined in a single paragraph, but grammar and meaning have been preserved.
3 John C. Randolph and Dicey Ragsdale, Tennessee State Marriages, 1780-2002, Ancestry.com; James Sullivan and Louisa Randolph, Mississippi Compiled Marriage Index, 1776-1935; Dicey Randolph, Hill Crest Cemetery, https://www.findagrave.com. Dicey's husband John may be buried here as well, but his grave is lost; Geoffrey Wheatcroft, "How the British Nearly Supported the Confederacy," The New York Times, June 30, 2011, www.nytimes.com. In the census, James Sullivan is listed by name only in 1850, where his native state was entered as "Ia," and in 1860, where it was written "Inda." Today's transcribers sometimes have misinterpreted these entries as referring to Iowa and India, but census-takers of that day did not use standardized abbreviations for U.S. states.
4 Joseph P. Elliott, A History of Evansville and Vanderburgh County, Indiana (Evansville: Keller, 1897), 18,116; Indiana Compiled Marriages, 1802-1850, Ancestry.com; Abel (indexed as "Alise") Sullivan, 1840 U.S. Census, Indiana, Vanderburgh Co., Pigeon Township, 322; 1850, Pigeon, Evansville, 406A.
5 James W. Sullivan, 1850, Arkansas, Phillips, Richland Township, 150B; Jeffrey A. Owens, "1850 Cotton Producers of Phillips County, Arkansas," Tri-County Genealogy 12, Spring 1997, 29; "1850 Agriculture Census, Phillips County, Arkansas, Richland Township," Tri-County Genealogy 9, Spring 1994, 17-18; 1850, J.W. Sullivan owner, slave schedule, Phillips, Richland, 244; James W. Sullivan, Appointments of U.S. Postmasters, 1832-1971, Arkansas, Phillips Co., 66-7. The location of Oakdale was not found, but it likely was between LaGrange and Marianna, because Lewis Poe had been the postmaster prior to James Sullivan, and in 1850 Lewis lived in Independence Township where Marianna is located.
6 Ruth Hopkins, Richland, 152; Florance J. Sullivan and Ruth P. Hopkins, Arkansas County Marriages Index, 1837-1957; Florance Sullivan, 1860 Census, Phillips, Richland, LaGrange, 347; James W. Sullivan, Appointments of U.S. Postmasters, Monroe Co., vol. 14, p. 58; 1860, Monroe, Hampton, 23; James W. Sullivan, crtf 1458, blk1, t2N, r1E, p 6, Arkansas Commissioner of State Lands, http://history.cosl.org/docs/Swampland/EntryBooks/Book1/North-East/1/DSC_188.JPG. Hampton Township became part of Lee County when it was created in 1873.
7 1870 U.S. Census, F.J. Sullivan, Vanderburgh, Evansville ward 9, 373B; Evansville, Indiana, City Directory, 1866, p. 222; Florance Sullivan, Indiana Select Marriages Index, 1748-1993; Archy Sullivan, 375A; James W. Sullivan of Evansville, U.S. Passport Applications, January 2, 1906-March 31, 1925, Ancestry.com.
8 Charles S. Bolton, Arkansas, 1800–1860: Remote and Restless (Fayetteville: Univ. of Arkansas Press, 1998). Robert W. Harrison and Walter M. Kollmorgen, "Land Reclamation in Arkansas under the Swamp Land Grant of 1850," Arkansas Historical Quarterly 6 (1947), 369–418; "Swamp Lands: 1850," http://history.cosl.org/swamp.aspx
9 1850, Arkansas, Monroe, Hampton; American Community Survey 5-year estimates, Census Reporter Profile page for Hampton Township, Lee County, Arkansas (Washington, DC: U.S. Census Bureau, 2016), https://censusreporter.org/profiles/06000US0507791593-hampton-township-lee-county-ar/. It should be noted that today's Hampton Township averages 7.4 miles on a side, and in 1850 it may have been larger, but today's town of Moro covers just one square mile within the township, so population figures alone do not prove the existence of a village there; "Arkansas Election," Southern Shield, August 17, 1850, p. 2, Newspapers.com; "A Table, Containing a list of Executive and Judicial Officers of the State of Arkansas," Weekly Arkansas Gazette, January 9, 1852, p. 1; 1850, Monroe, Hampton, slave and agricultural schedules; Hans Blumenfeld, "The Urban Pattern," Annals of the American Academy of Political and Social Science 352 (March 1964), 75-6.
10 Martin Bigham, 1850, Monroe, Hampton, 736 (penned incorrectly as 724); "1850 Agricultural Census, Monroe Co., Arkansas, Hampton Township," Tri-County Genealogy 11 (Fall 1996), 103-6; 1830, Carroll, Tennessee, 149; Tennessee Early Tax List Records, 1783-1895; 1840, De Soto, Mississippi, 116; Mississippi, Compiled Census and Census Substitutes Index, 1805-1890.
11 A Vision of Britain Through Time (Portsmouth, UK: Portsmouth University Press, 2009-17), http://www .visionofbritain.org.uk; Official site of the Village of Murroe, http://murroe.net/
12 Geographic Names Information System (U.S. Department of the Interior, nd) http://geonames.usgs.gov; Trey Berry, Pam Beasley, and Jeanne Clements, eds., The Forgotten Expedition, 1804-1805: The Louisiana Purchase Journals of Dunbar and Hunter (Baton Rouge: LSU Press, 2006), 64,178.
13 "Post Office Names," NA, https://www.archives.gov/research/post-offices#ponames. In the tale in the Lee County history book, it accurately says that James could well have named the town "Sullivan" instead of Moro.
14 William A. Frazier, "Rackensack in the Field: Arkansans in the U.S.-Mexican War," eds. W.A. Frazier and Mark K. Christ, Ready, Booted, and Spurred: Arkansas in the U.S.-Mexican War (Little Rock: Butler Center, 2009), 38-67; "Arkansas Soldiers: Sons of the Great State Who Went to Battle Against Mexico: Company K…," Daily Arkansas Gazette, July 17, 1887, p. 6; James W. Sullivan, Pvt., Co. K, Mounted Arkansas Infantry, Compiled Service Records of Volunteer Soldiers who Served during the Mexican War in Organizations from the State of Arkansas, NA, Fold3.com.
15 Mary C. Gillett, The Army Medical Department, 1818-1865 (Washington: U.S. Government, 1986), 81,129-30. There is no information in his military record on why James was picked or what his limitations were, if any.
16 Mexican War Journal of Sgt. John C. Palmer of Blackton, Monroe Co., Arkansas, file copy in the possession of the writer; 1850 U.S. Census, Arkansas, Phillips, Richland, 300. Census-taker Quincy K. Underwood was a journalist by trade and founder of The Southern Shield newspaper at Helena.
17 Peter Jolly claim no. 18332 (allowed), NA, Fold3.com.
18 Yancey, an Alabama newspaperman, campaigned to be president of the Confederacy. Rhett, a U.S. Senator from South Carolina, led secessionists at the Provisional Congress and ran for president against Davis, who won.
19 Nancy C. Wetherford [sic] claim no. 13507 (allowed), NA; John Curtis claim no. 13512; Virgil C. Bigham, 1st Arkansas Union Infantry and 4th Arkansas Union Cavalry, Compiled Service Records of Volunteer Union Soldiers Who Served in Organizations from the State of Arkansas, Civil War, Adjutant General's Office, NA. Virgil C. Bigham was mistakenly characterized as a Confederate soldier in stories about Old Moro, an error that originated in Biographical and Historical Memoirs of Eastern Arkansas (Chicago: Goodspeed, 1890), 573-4, and was repeated in History of Lee County, Arkansas, 203; Wesley T. Breeding, Complied Service Records; Wesley T. Breeding, Civil War pension application, NA, file copy in possession of the writer. In Wesley's pension application, Virgil C. Bigham and Andrew J. Craig signed an affidavit stating that they had served with Wesley T. Breeding in Co. I, 4th Arkansas Cavalry, Union Army, and that all three mustered out together on June 30, 1865.
20 Jo Claire English, "Monroe County Home Guards–Organized July 10, 1861," Tri-County Genealogy 4 (Summer 1989): 75; "Arkansas Militia in the Civil War," http://military.wikia.com/wiki/Arkansas_Militia_in_the_Civil_War.
21 Charles R. Logan, "Something So Dim It Must Be Holy: Civil War Commemorative Sculpture in Arkansas,1886-1934 (Little Rock: Arkansas Historic Preservation Program, 1997), 25; Carl H. Moneyhon, "Disloyalty and Class Consciousness in Southwestern Arkansas, 1862-1865," Civil War Arkansas: Beyond Battles and Leaders, eds. Anne J. Bailey and Daniel E. Sutherland (Fayetteville: University of Arkansas Press, 2000), 117-32; Susanna M. Lee, "Twenty-Slave Law" (Charlottesville: Virginia Foundation for the Humanities, 2009) http://www.EncyclopediaVirginia.org/Twenty-Slave_Law.
22 Henry Ingram claim no. 13505 (barred/disallowed), NA; Henry Ingram, Confederate Service Record, Fold3.com.
23 Official Records of the Union and Confederate Navies in the War of the Rebellion, 23:273, Cornell University Library, http://digital.library.cornell.edu/; The War of the Rebellion: Official Records of the Union and Confederate Armies, 13:113; "Intelligence from the Army of General Curtis," Memphis Daily Appeal, July 16, 1862, p. 2.
24 Wheaton, Surgeon on Horseback, 153; The War of the Rebellion, 13:524-525; "The Federal Army in Arkansas," Memphis Daily Appeal, August 1, 1862, p. 1.
25 The War of the Rebellion, 13:272-3,349-50.
26 Joseph P. Blessington, The Campaigns of Walker's Texas Division (New York: Lange Little, 1875), 42; Johnette Highsmith Ray, "Civil War Letters from Parsons' Texas Cavalry Brigade," Southwestern Historical Quarterly 69 (October 1965) 217-8; Norman D. Brown, ed., Journey to Pleasant Hill: The Civil War Letters of Captain Elijah P. Petty, Walker's Texas Division, CSA (San Antonio: Texan Culture Institute, 1982), 100-1.
27 The War of the Rebellion, 13:349-50.
28 Ibid.; "Latest Southern News," The Cincinnati Enquirer, November 13, 1862, p. 3; "Southern News," Davenport Daily Gazette, p. 1; "Skirmishing near Cotton Plant," Syracuse Daily Courier and Union, p. 3; "Important from the Southwest," New York Daily Herald, p. 1.
29 J.W. Sullivan file, Confederate Papers Relating to Citizens or Business Firms, 1861-65, War Department Collection of Confederate Records, NA, Fold3.com.
30 Anne J. Bailey, ed., In the Saddle with the Texans: Day-by-Day with Parsons's Cavalry Brigade, 1862-1865 (Abilene, TX: McWhiney, 2004), 43,52-7,65-6,79,90. This book is a transcription of the Order Book of Parsons's Texas Cavalry preserved in the Sims Library, Waxahachie, Texas, with commentary by transcriber/editor Bailey.
31 Ibid. William Martin Walton was a lawyer in Austin, Texas, and even though the Order Book from 1862 places the blame for the arrest of his men at Trenton squarely on Walton's shoulders, he blamed it on a 2nd Lieutenant he said he left in charge with strict orders NOT to go inside a house to eat, writing that the capture of his men "while they were in the house and enjoying their dinner…was no fault of mine." He added that the incident "somewhat cast a shadow on me for a time," but he was never willing to take responsibility for it. Walton wrote those words shortly before his death in 1915, and his entire memoir was published in 1965 by Friends of the Austin Public Library. See William M. "Buck" Walton, An Epitome of my Life: Civil War Reminiscences (Austin: Waterloo Press, 1965), 32-3.
32 "Town of Moro Was Wiped Out," Helena Weekly World, November 28, 1900, p. 4.